Dear Babypants,
Happy Double Digits!  I am a little late with this since you hit the big 1-0 last week but I was really busy raising you and keeping you alive and all. We have been really busy with the whole making more teeth, growth spurts, milestones and no time for sleep thing going on.  I think double digits might have a surprise in store for us though. 
We hit your 9 month appointment and got your official stats.  You're like the Mike Tyson of babies.  Weighing in at 24 lbs and 6 ounces and measuring 30 inches, you sometimes rip my face off and bite my ear.  The pediatrician validated my concerns: you, my baby, are a handful.  A force to be reckoned with.  A tornado of ten month activity.
You are extremely active and are in to everything.  You are crawling, pulling up and standing but still need assistance.  You are not quite walking on your own yet but we've seen some toddling.  You survived a month of music class but it wasn't really your bag of tricks.  A little too slow for someone that needs to be on the go.  If you've seen one maraca apparently you've seen them all.  Next stop, little gym.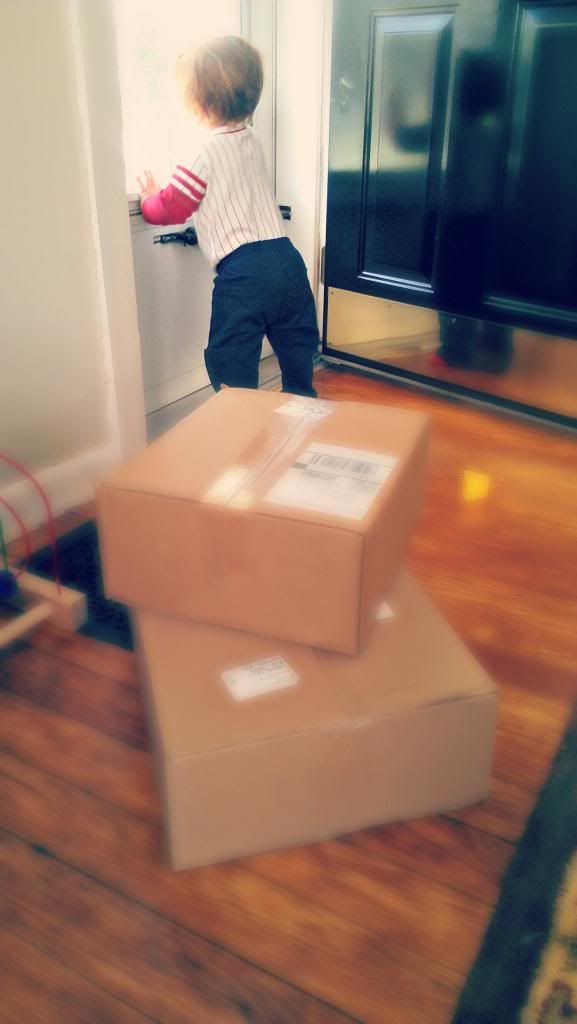 You have cut two more teeth and sprouted both your lateral incisors.  You now have a total of seven teeth in that little mouth of yours.  Better to bite people with I believe.  You are still a baby foodie but mostly enjoying fine dining on purees with the occasional finger food here and there.  Your lack of chewing sometimes makes finger food tricky.  I spend a great deal of time fishing things out of your mouth lately. 
You are totally digging the whole concept of stacking and nesting all of your toys.  You have a shape sorter that gets used to house a lot of your smaller toys right now.  Thoroughly entertaining for you.  You love pushing and pulling your toys as well and in a pinch will slide your highchair around if it's the only thing in sight.  You also really love active play and anything that allows you to move.  You build forts with your dada downstairs and hide out in the mornings. 
Your temperament sometimes makes it difficult to get out of the door and go anywhere but when we do….well, it's something else to see.  Your personality is starting to form and you are quite the little ham.  You could entertain me for hours with these crazy faces!!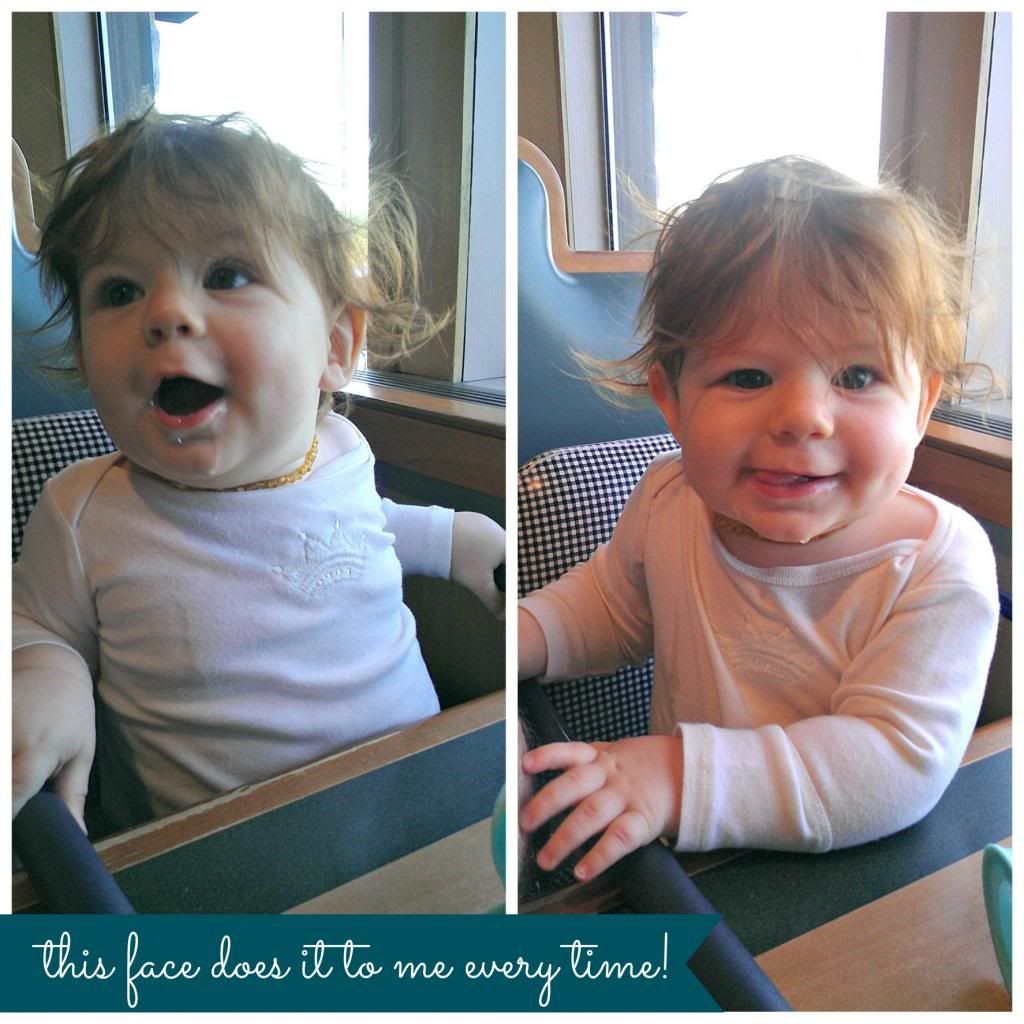 Happy double digits babypants!  Welcome to the wonderful world of 10 months. We love you to the moon and back.  Around the world.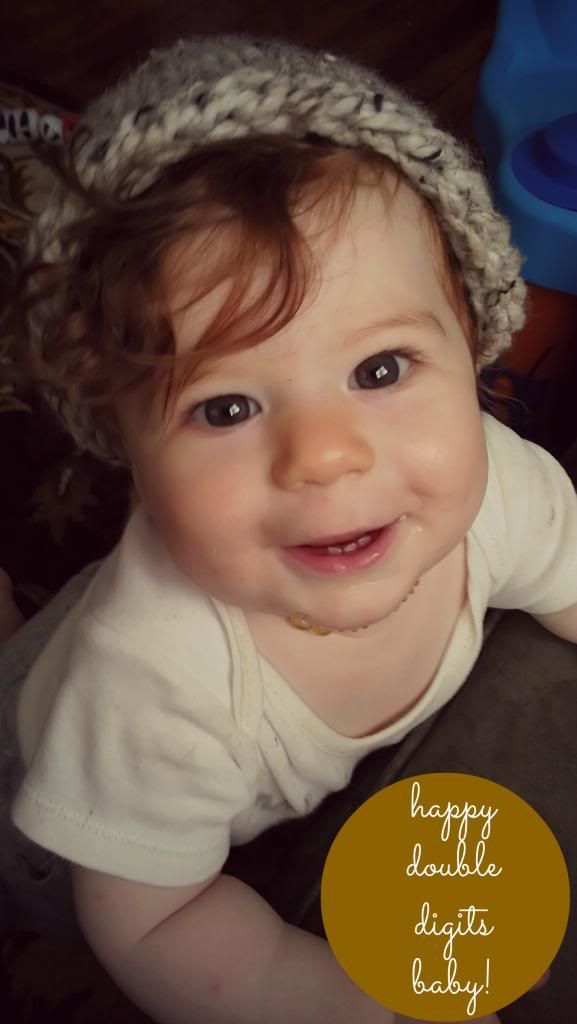 xoxo,
boss lady (one proud mama)
Dear Babypants,
I am a little late in commemorating your 11th month.  Remember when I said I thought that double digits had something in store for us?  I meant full nights of sleep.  Couldn't have been further from the truth.
We've been busy.  I am sure that you probably have noticed that I've been burning the candle at both ends.  Burning the midnight oil.   I've been up all hours of the night and waking before sunrise.   We have been busy mastering new milestones and developmental goals and continuing to make a mouthful of shark fangs.
You are growing by leaps and bounds. You are thinning out and slowly shedding your baby fat, if that is even possible.  Long lean arms are slowly replacing your little chubby sausage link arms.  You are using your new arms to pull yourself up, to feed yourself, to share your food with mama and dada, to stack and sort and pull your toys, to turn the pages of your favorite board books…and so much more.
You are inquisitive and curious and spend your days exploring your surroundings.  You can be found standing at the front door watching the world go by,  crawling on the grass in the yard or attempting to toddle through the living room.
We spend our days reading board books, stacking and sorting toys, clapping hands, singing songs and occasionally taking naps.  You are understanding cause and effect and enjoy throwing your sippy cup and feeding the dog all of your gluten free spinach puffs from your high chair.
You struggle to understand the cause and effect of sleepless days and nights.  Neither one of us is very happy during these times.  Let's work on changing that and making sleep a solid part of our routine.  I'm pretty much over the 4 am wake up calls and the all night partying happening between the hours of 11pm and 5am, k?
The last year has been surreal.  I still marvel at watching the transition from babyhood into toddlerhood and still can't believe that I have a soon to be 12 month old.
Love you around the world and back.  To the moon and back.
xoxo,
boss lady